Fueled by the recent announcement of its 2020-21 season, which is surely to be remembered as a game changer for the company, the Atlanta Opera's second ever production of Richard Strauss' Salome opened to thunderous applause this past Saturday. For this second effort, the company took great pains to give the daughter of Herodias and princess of Judea her due importance and created for her an entirely new production from the ground up. As it's often the case in the creation of a new staging, the production team took a great deal of artistic risks, and though some of these did not fully capitalize on their promise (such as the opera's deflating resolution,) various elements promoted thoughtful contemplation on the grotesque and disturbing topics which the opera forces the audience to tackle. Through the work of scenic designer Erhard Rom, the sets frame Herod's palace as the lair of a paranoid nouveau riche which will one day be retrofitted into a fancy library. Mr. Rom also raises the entrance to the cistern above ground, so for once we, the audience, can peer into it and see just how dark and frightening the prophet's prison really is. Making an inspired debut in this production, costume designer Mattie Ullrich striked the right decadent tone through costumes that emphasize a nervous gaudiness in Herodias and the neurotic swagger of her husband Herod.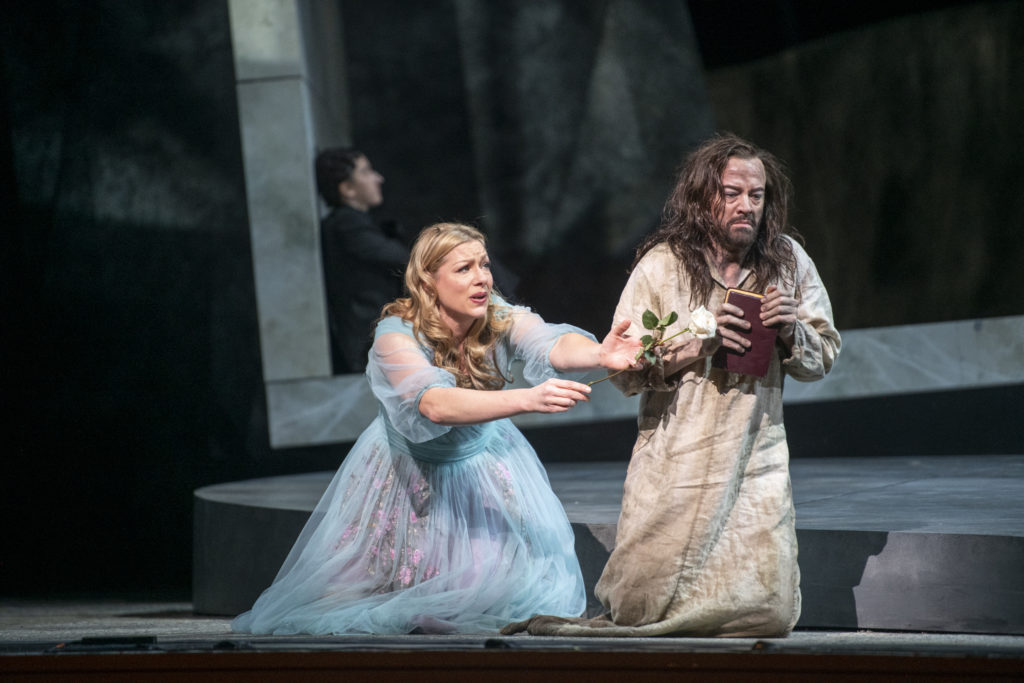 Whether by design or by accident, Carl W. Knobloch Jr. General & Artistic Director Tomer Zvulun chose to underplay the more psychotic aspects of the title character, and the results are quite disturbing. His view of Salome does not lean on the exotic or incomprehensible. In spite of dawning a sky blue sheer dress, Disney's universal uniform for young royalty, the director's princess leans heavily on the ordinary, and through the work of wig and makeup designer Ann Ford-Coates, this Salome could easily be standing in line behind you at some Starbucks in Alpharetta (and make a very pointed Facebook post if her name were misspelled on her cup). She is aware that a sensuous element within her can be wielded to her advantage, but she doesn't fully understand how it all works. Thus, she outsources the more predatory elements of her budding sexual prowess into a troupe of six veils/dancers (wonderfully guided by choreographer Amir Levy) and they carry out the princess' more vile acts. The initial effect is dizzying to the audience, as Salome's reactions seemed muscled and undigested, and yet things grow eery. In a clever move, Mr. Zvulun clears the stage for the dance sequence, making it a private event for Salome to play out her sexual savvy with decidedly more daring. A subtle details takes place when she finally makes her infamous request: Salome seems to make it on that spot, as if the prior decision to dance had been an abstract device without direct intent, and suddenly the fancy strikes her as if by chance. Mr. Zvulun's greatest risk, a projection sequence displayed on the now giant moon during Salome's epic final scene, juxtaposed with the princess cradling the covered severed head of Johanaan was extraordinarily disturbing and inspired Grand Guinol. Perhaps here is where we recognize this Salome for something that we all share when making disastrous decisions under seemingly unremarkable circumstances. Instances of road rage, that time you wrote a co-worker an unnecessarily belligerent email, the things we say to each other in social media. Now turn into a newscast showing an accused criminal who appears disturbingly average and admits to having done the crime for reasons most mundane. Perhaps this is how it would happen in real life.
Like many works in the Straussian catalogue, Salome is a daunting puzzle to keep together by most musicians, a fact surely present in Carl & Sally Gable Music Director Arthur Fagen's mind as he rolled up his sleeves and crossed along the orchestra pit barrier towards his place on the podium. Because of the enormity of the thing, he kept the evening from suffering any serious mishap by adopting an even keel and judicious approach, all the while keeping the orchestra gossamer and sympathetic to the needs of his principals. This selfless policy robbed maestro Fagen the opportunity to display in his reading a certain exuberance that many luminaries of the past have taken advantage of, and thus raising the performance to higher status. Alas, he has the rest of the run to get just a little more selfish and go past functional. He deserves it and has a cast that can handle such sass.

The first voice we hear is a good one, and though his part is short, tenor Adam Diegel's Narraboth (the first in his career) demanded the attention of the opening night audience at his every utterance. His is a sturdy tenor with a cool edge, a detail that we isolated as a small detraction from his Puccini when he made his Atlanta Opera debut as Pinkerton in Madama Butterfly 6 years ago. In Strauss' musical language, the proceedings further benefited from his proclivities. Mr. Diegel understands the young captain very well, and projected an uncomfortably sympathetic and tortured captain through a carefully managed dramatic arch. He can claim a fine Narraboth to his growing list of roles. His sidekick, the trouser's part of the page, was entrusted to mezzo-soprano Elizabeth Sarian, last heard as Tisbe in the company's production of Rossini's La Cenerentola. She is one of the Atlanta Opera's studio artists and likely trying on the role for size. In stage deportment and physicality, she was ideally suited for the assignment, and though her vocal resources are of a meeker brand when compared to her more bombastic colleagues, it set the stage for the arrival of the battleships that were to follow.

First heard in an affected, muffled sermon distorted by the confines of the palace's cistern, bass Nathan Berg, the evening Jochanaan, gave subtle hint that a voice of international caliber was present among us. This was to be confirmed following his release. If the mind's ear can see, this was a voice represented as a primary color – a tower of solid oak, hurdled bluntly into the auditorium with spellbinding abandon. The musico-dramatic result was basic and clear: This was indeed the sound made by an extraordinary individual of a single, superhuman thought. Not satisfied by his sizable contribution, Mr. Berg did not rest on his vocal laurels and portrayed the unwavering zealot with enthusiasm, always jumping at the chance to evangelize even in the presence of the most self-absorbed. Not all was perfect. At its fiercest expression, the steadiness of Mr. Berg's bass sometimes wavered, and when cornered to resolve the higher tessitura ("Denn die Geissel des Herrn ist in seiner Hand") he was obliged to simplify his task. Minor issues aside, the effect of his participation was nevertheless decisive and impossible to ignore, as it is not often that in these times of considerable vocal compromise for an audience to be viscerally slapped by a voice presented as pure rich natural element. Judging by the ovation that greeted his curtain calls at the end of the evening, the effect was shared by the majority of those present.

The Salome of soprano Jennifer Hollowell offered a different type of appeal. As a young artist, Ms. Hollowell began her career as a mezzo-soprano and made her first appearance at the Atlanta Opera in 2011 with performances of Dorabella in Mozart's Cosi Fan Tutte. We remember her as a singer of promise, whose significant talents were sadly ill-matched to the delicious Mozartian comedy. Since then, Ms. Hollowell has transitioned to the dramatic soprano ilk and has begun to take on roles in the Wagnerian repertoire. As heard in last Saturday's opening night presentation, she has certainly developed into a singer of different possibilities . Her instrument is not a natural battleship like Mr. Berg's, but still ample enough to lend a credibly sung performance of Salome. Not surprisingly, the basics of her voice lean heavily towards the middle register, which can be trusted upon to sneak downwards like a well oiled rubber band. While the extension to the top register is well managed, the special focus that Ms. Hollowell pays in smoothing over the artificial gap between the middle to the ancillary top register is palpably evident in many instances. The top notes are rendered steady through greater study, but still have a looser knit when compared to those in her comfort zone, and are more vulnerable when scrutinized for accuracy in pitch. These misgivings were wiped away by the time she embarked into the near impossible final scene, and here her singing was solid and satisfying, no small accomplishment by any standard.

The casting of the title role can be tricky business, as the demands of the score are often at odds with the theatrical opportunities to be exploited in the part. It requires a prima donna capable of embodying the capricious princess caught in a proverbial "I'm not a girl/not yet a woman" all the while possessing an instrument of heroic heft and the physical allure to warrant this ninety five minute bruhaha. Possessing vocalism that projects an incandescent danger across the footlights and performing the dance of the seven veils without aid is an added bonus, and only one, the legendary Ljuba Weltisch, managed to have it all. The search for the ideal Salome has frustrated 20th century impresarios, who have thus taken their cue from the composer himself (Strauss famously offered to reorchestrate the opera to allow the tiny voiced Elisabeth Schumann to accept the part) and are often willing to compromise heavily. In the case of our current situation, Ms. Hollowell is no different. She is an attractive artist who moves well onstage, but is no physical miracle, thus she benefits from the assistance of her six predatory ballerinas. Perhaps in part due to the transitional issues of her vocalism, her singing is made expressive mostly through careful adherence to the composer's markings and thus not decisively unique. That further development will surely unleash the special qualities of Ms. Hollowell's Salome is illustrated by her deliciously articulated reminder to Herod "Du hast einen Eid geschworen, Tetrach," all at once full of hidden menace and fine print. We look forward to her progress in the coming years.
The Herodias overseeing such development, at least for this brief segment of make believe, was mezzo-soprano Jennifer Larmore, who is here trying out the role for the first time in her career (by odd coincidence, another celebrated local mezzo-soprano, Dolores Ziegler, tried the same role as her entrance pass to the long list of dragon lady cameo parts for the first time back in 2003, also for the Atlanta Opera). With her days specializing in baroque and bel canto assignments surely behind her (they helped to make her an artist of international acclaim two decades ago), roles like Herodias and Marcellina in Le Nozze di Figaro will send notice to her fans that the final phase of her important journey is upon them. None of this means that she's not allowed to have any fun, and her interpretation (in both looks and mannerisms) recall a younger version of Blanche Devereux. Vocally, she can still summon enough voice to cut through the Straussian orchestra with little issue, and the reedy quality which has taken over her tone matches well with the character's unsavory personality. As to the idea that her lower register would ever qualify her as a Klytamnestra of note, one can only wait and see. Heldentenor Frank Van Aken plays the role of her husband, Herod, the creepy Tetrarch, and there are many who would claim this part as the second most difficult assignment in the opera. Once warmed up, the terrifyingly pages of Herod's numerous tantrums held little terrors for Mr. Van Aken's icy and heroic instrument, and he remained fully expressive even at the highest tessitura. Dawning a campy crown, fur trimmed coat, and ill fitting jeans and shirt, his impersonation was neurotic, greasy and worrying. The realization that this unstable man was in charge added an additional element of dread to an American audience in the year 2020. All he needed was a twitter account. It would not be an over reach to state that thanks to his involvement, along with Mr. Berg's and Ms. Hollowell's, Mr. Van Aken helped to make this a world class performance of Salome.

The smaller roles were wonderfully realized, and we will isolate a couple out of the long list. Those in attendance at the Atlanta Opera's first production of Salome in May 2003 will recognize Mitch Gindlesperger as the only member to have survived the various changes undergone by the company in the past 17 years, even graduating from his original second soldier assignment to the first. This seasoned artist made sense out of the few lines of tender music sung in reference to Jochanaan, a sobering reminder that the only person in this drama with genuine sympathetic feelings towards his fellow man could also be under orders to shoot him. The younger generation was well represented by several members of the Atlanta Opera studio artist program, which is gaining a reputation for producing quality voices. Two of the program's alumni, tenor Justin Stolz and bass-baritone Alan Higgs were featured in the ensemble of bickering jews. Both artists are slated for important careers, and have a knack for stealing the spotlight from unsuspecting visiting principals. Out of towners beware. Their concerted numbers found them in solid voice, and if at any point their interaction got competitive, we will give this round to Mr. Stolz for ear splitting cacophony alone. We patiently hope for a rematch.

The Atlanta Opera's run of Strauss' Salome continues through the rest of the week. For more information, please visit the company's website at www.atlantaopera.org

-Daniel Vasquez